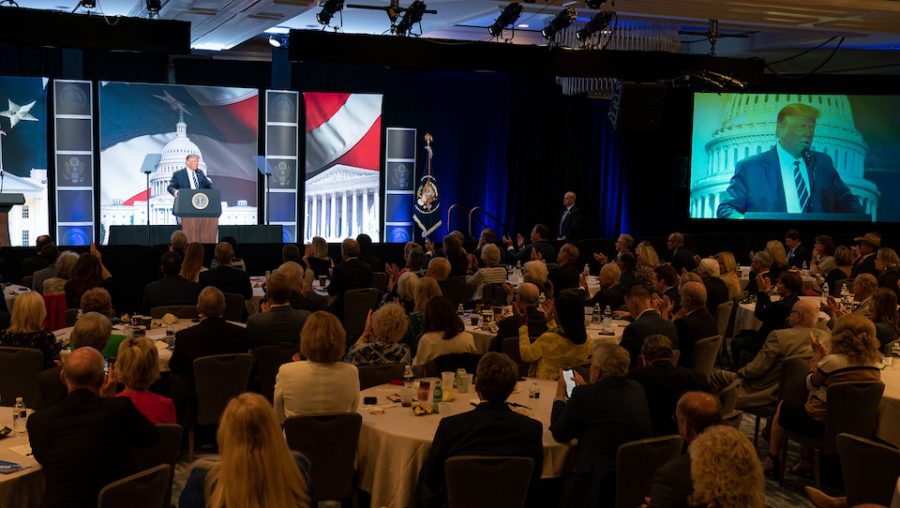 The current state of the Republican Party in the U.S. is the result of a 40+ year conspiracy by right-wing zealots to overthrow the government and to replace it with one more friendly to wealth, corporations, and hypocritical morality. This conspiracy is criminal in its use of tax exemptions to hide the real reasons for a coup de-tat in the name of "education". I was a part of this in its early days, so I'm not surprised it has come very close to success.
Here's how I recall one meeting in particular from my book about Pat Robertson, The Gospel of Self: How Pat Robertson Stole the Soul of the GOP. Pat gathered a small handful of key executives in charge of content for The 700 Club. It was January 1, 1985. Ronald Reagan had been re-elected, but Pat saw a void beginning in 1988. Here's the gist of what he told us in the board room that day:
"We must form a shadow government," he began. "We must begin to find and train Christian people, so that they can be placed in every position that matters, because the country is on the verge of collapse. The Lord is showing me that when it goes, nobody is going to know what to do, and they will turn to us, because we will have answers. We won't be afraid. We've got to work to make sure God's people are in the schools, the school boards, the city councils, the county commissions, the trash collectors, the tax collectors and all local government positions. We need to be in the state legislatures, the statewide offices, Congress, the courts, everywhere. We can't be overt and obvious about this; we must do it quietly and create this shadow government."
In many ways, this statement was years in the making and was energized by the election of Ronald Reagan and the rise of the televangelists in America. Satellite TV was just being birthed, and CBN owned a transponder on the very first Satcom satellite, which positioned us to ride above the grip that the networks had on the TV screens in American homes. Pat knew that this advantage would provide the technical mechanisms for disrupting the status quo provided by network domination of the news hegemony. We called our content "TV Journalism With A Different Spirit," which was euphemistic for right-wing political propaganda. We were criticized by certain media observers as "so slanted that it's vertical." It turns out that what we actually did was to write the playbook upon which Fox News is based.
Pat Robertson ran for President in 1988 as the man who would replace Ronald Reagan. Think about that for a minute. This event and events surrounding it were the direct result of the politicization of the tongue-talking (expression for those Christians who practice the Gifts of the Spirit outlined in the gospel, speaking in tongues being one of them) audience of The 700 Club and the more staid worshippers under the Moral Majority brand of Jerry Falwell. The core beliefs of these two groups couldn't be more different, and yet they found fellowship with each other under the banner of relieving the country of what they called sin. Both groups preached separating themselves from a culture that threatened their sensibilities as neighbors. This threat seemed to directly attack their faithfulness to what the Bible taught them about men and women, prayer in public places (like schools), displaying creches and the Ten Commandments, and especially what they viewed as infanticide through abortion. Together, we made the claim that the country was hostile to Christianity, and that the country's issues were simply expressions of human fallenness.
It was a powerful argument to those who believed that they were of the redeemed, and thus their ability to rightly judge the culture was a given among them. This is still quite evident today.
Privately, Pat Robertson despised Jerry Falwell, especially in the wake of him taking over Jim Bakker's ministry to the tongue-talkers. Falwell represented that he was the right person to intervene in the mess created by Bakker's infidelity, but we knew it would be a disaster. Strange bedfellows they were, Falwell and Bakker. Add to all that Oral Roberts' presentation that if he didn't raise $9 million by Friday, God would take him home, and Jimmy Swaggart's illicit rendezvous with street hookers, and you had the makings of a total dismembering of televangelism as a whole.
Our biggest fear at the time was that Pat's run for President would be included in the follies of televangelism as a whole, and Pat's shadow government seemed to take an enormous hit. After all, Pat's entire vision included his ability to draw a more intelligent crowd than the others. Unfortunately, it was these very people who abandoned all television ministries as a result of the antics of Roberts, Bakker, Swaggart, and others.
Regardless of judgments coming from outside Christian circles, Pat pressed forward with his plans to run for President. Almost overnight everything changed when the IRS office of criminal investigations opened an investigation into misuse of our contributions for political purposes. They were right, and they had mounds of evidence even before my deposition in the case.
The investigation came "right from the top" according to the investigator who handled my deposition. I took it to mean that it was "requested" by George H.W. Bush to force Pat out of the 1988 race. It worked, but it's very important to understand that Pat and his associates thought little of pushing tax exemptions to their extreme limits in the process of his efforts. In the case of the Council for National Policy (CNP), of which Pat was president in 1982, they took up Pat's cause of "restoring America to its rightful place as a Christian nation". Here is an organization behaving exactly as we did, up to their necks in politics and yet having the enormous benefit of being a tax-exempt organization. This is illegal, folks, and yet we're all looking the other way while they try to[ take over the government. CBN was also profoundly pro-business, which appealed to wealthy contributors, I'm convinced that the hundreds of tax exempt organizations under CNP leadership are — like we did in the 1980s — breaking the law when it comes to the "education" exemptions of 501©3 tax exempt organizations.
One of the beneficiaries of the coup attempt is J.D. Vance, the presumptive Republican candidate for U.S. Senate from Ohio in the fall. In an Intelligencer article about Vance, there is one particular paragraph that's noteworthy for this missive. Here it is:
"I think Trump is going to run again in 2024," he said. "I think that what Trump should do, if I was giving him one piece of advice: Fire every single midlevel bureaucrat, every civil servant in the administrative state, replace them with our people."
"Our people". This would be the same ones that Pat Robertson referred to in his Shadow Government secret proclamation. It's all illegal in its use of tax exemptions and needs to be put down permanently.
It's hard for me to imagine why a Democratic White House doesn't open an investigation into the CNP, for the results would have an important and necessary chilling effect on their efforts to overthrow the U.S. Government.
EDITOR'S NOTE: For much more information about the CNP and its members, I strongly recommend you read Anne Nelson's investigative reporting book, Shadow Network.