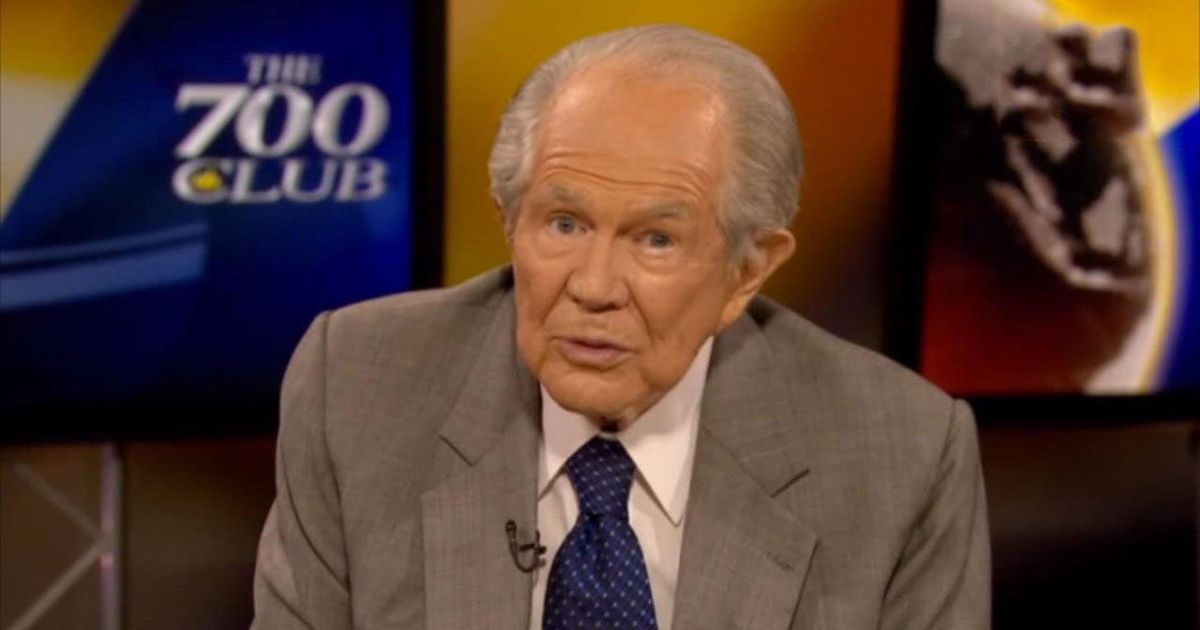 My old boss Pat Robertson is using the latest Arab-Israeli conflict to threaten every person who doesn't unilaterally support Israel with a curse from the Bible. Isn't it amazing how fundamentalist Christianity uses threats of future harm as a way to manage its denizens into doing exactly what the Republican Party wants done today? Evangelicalism, at its very core, uses such fears to scare people into marching in lock step. It's a clever ruse, because it doesn't require proof other than its shared beliefs in interpreting the Bible.
Evangelicalism is the management of people via the threat of hell. Every pamphlet, every first contact with a sinner to "save" begins with the question of one's future habitation. This way, you don't have to address what's happening to a person in the here and now. You're doing them a favor by promising them a future in heaven. It's how pro-lifers can dismiss what happens to all those babies after they're born. They just don't seem to matter, do they?
Dismissing the entire concept of grace, Robertson and his ilk have slid into legalism as their theological core. Do this, not that is the very definition of legalism within the faith, even though the Bible says "I desire mercy, not sacrifice" and "the just shall live by faith."
Quoting from his broadcast of The 700 Club on Monday, Newsweek noted the political aspects of his screed in a piece called "Televangelist Pat Robertson Warns U.S. Will 'Suffer Curse' from God If Dems Don't Support Israel"
"Here's what the Bible says in Genesis, talking about Abraham," he (Pat Robertson) said, " 'I will bless those who bless you, and I will curse him who curses you; and in you all the families in the earth you shall be blessed.' Genesis 12:3 NKJV. Now, I think the Jews have been God's messengers. They have been entrusted with the oracles of God, and to see this rise of antisemitism which mirrors what was done in the Nazis… This is satanic."

Robertson then named names, …calling out "Tlaib and the other members of the Squad," meaning six young, left-leaning, POC members of Congress including Rashida Tlaib of Michigan, Alexandria Ocasio-Cortez, of New York, Ilhan Omar of Minnesota, Ayanna Pressley of Massachusetts, Jamaal Bowman of New York and Cori Bush of Missouri.

"If the United States of America stopped supporting Israel…if you listen to what [the squad] is saying, and if the Democratic Party swings in that direction, and if the millennials lead America away from Israel, we as a nation will suffer the curse that God placed on those who would curse Abraham," Robertson said.
To be clear, in the name of political expediency, Pat Robertson has just determined that the Democratic Party is the party of satan, thereby forbidding his followers from ever voting for Dems.
Zionism — to be factual, the geo-political base of the state of Israel — has carefully and systematically shifted the definition of antisemitism to now include unwillingness to be supportive of their plans, tactics, and goals. Israel is free to act in its own best interests with impunity and not those of its neighbors or even the whole region we call the Middle East.
Zionism is not Judaism, and they're not even close.
Fundamentalist Christianity MUST support Israel, or its entire narrative crumbles. After all, its theology is based in the end times, and Israel's resurrection in Canaan is their (Biblical) signal that Jesus is coming back soon. To deny the political nature of its Zionist government, however, is to turn a blind eye to real poverty, suffering, and death in the process of self-justification, and that, folks, is the total opposite of the commandment of Jesus to "love the Lord, ourselves, and our neighbors."
Actor Jon Voight made a video that attempts to shame us all in the same direction. "How dare you attack the righteous souls of God's highest truths," he angrily chided those who stand against America's $10 million-a-day gift to Israel, noting that Jews brought the concept of love into humanity, a claim that's convenient but hardly true. There's no love whatsoever in Israel for a Palestinian community it wishes would just go away.
Remember, friends, there's a difference between freedom and license, for the former includes responsibilities to others, whereas license offers carte blanche in the acceptance and development of self-centeredness. Republicans deny their responsibilities as humans in favor of the most sinister form of selfishness ever brought forth on this planet.
Which one is God truly undergirding?